Limited time only! 10% off Kuniyoshi's triptych
Dramatic fighting scene of yokai in a panoramic triptych
2021 is the 160th anniversary of ukiyo-e artist, Utagawa Kuniyoshi (1798-1861)'s death. He became a pupil of one of popular ukiyo-e artists, Utagawa Toyokuni at the age of 15. He was on the stardom around 30 years old after he published a series of "108 heroes in Water margin". Back then, people said "Hiroshige for landscapes" and "Kuniyoshi for warriors".

The dramatic triptych, "In the Ruined Palace at Soma" is Kuniyoshi's iconic and best known work. He depicted the story of the princess Takiyasha based on the illustrated fiction by Santō Kyōden entitled "Utō Yasukata Chūgi-den". Princess Takiyasha tries to take revenge calling Yokai (ghost) for the sake of her father, Tairano Masakado who was killed. Kuniyoshi lays one large skeleton over two prints which is an innovative idea to compose for triptych.>> Datils
The woman depicted in the left print is princess Takiyasha who is taking revenge calling a huge skeleton using sorcery for the sake of her father who was killed.

The hero, Mitsukuni depicted in the center print is sent to defeat princess Takiyasya.

Kuniyoshi actually studied a book of Anatomy to draw the realistic skeleton for this work.

Ukiyo-e triptych consists of three individual oban prints. As each print is printed separately, it requires advanced printing technique to match colors.
A monstrous whale depicted in a large panoramic triptych
This impressive panoramic work is based on a legend of "Miyamoto Musashi Subduing the Whale". Musashi was a legendary master swordsman. Kuniyoshi depicted the scene of a fight between Musashi and a monstrous whale. Kuniyoshi used the triptych screen fully to depict a monstrous whale in wild waves.
Kuniyoshi's warriors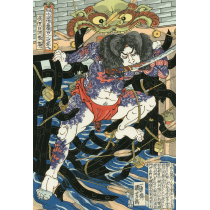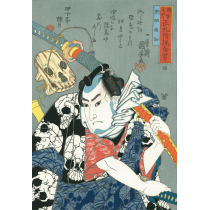 An avid feline lover Kuniyoshi depicts cats and cats
The title of this piece is a fun spoof on Hiroshige's "Fifty-three Stations on the Tokaido", Hiroshige's impressive series which was the biggest-selling collection in the history of ukiyo-e. The work is spread over three prints, and each of the 55 illustrations of cats is a play on words based on the names of the 55 stations. The cats in this piece are lovingly portrayed, each one capturing a different aspect of a cat's charm in a humorous way with great accuracy and careful observation.>> Datails
One of Kuniyoshi's favorite genres of ukiyo-e is caricature. He left many caricatures which are full of sophisticated humor and sarcasm. This dynamic triptych introduces proverbs related to cats with cat illustration in Kuniyoshi's way. Cats in fully anthropomorphized form are implying each proverb humorously. The concept and the description of this work is filled with Kuniyoshi's essence! >> Datails
All cats are anthropomorphic and imply the proverb which is related to cats.

The spots on the cat are expressed with layers of special printing technique "itabokashi (woodblock gradation)".

Kuniyoshi depicts each cat's expression in detail.

The special printing technique, "Karazuri (embossing printing)" is used for the expression of cat's hair.