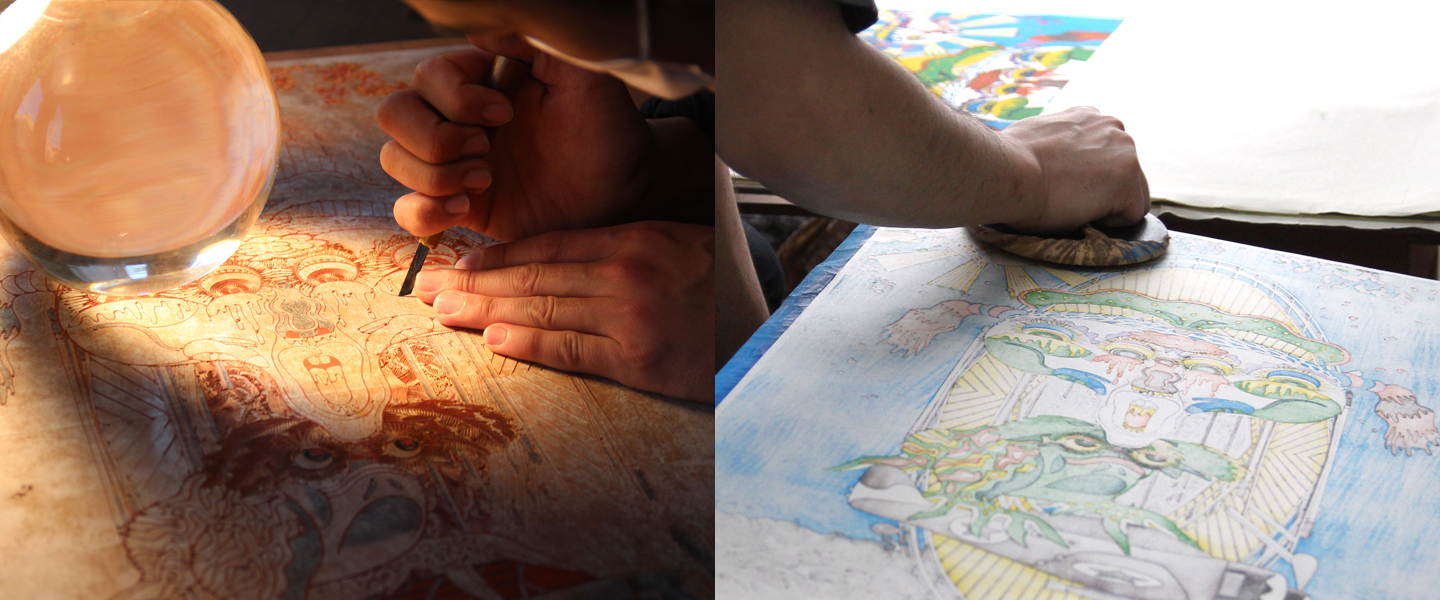 Keiichi Tanaami
The Dream Begins Again
Throughout his illustrious career, Keiichi Tanaami has continued to explore new frontiers of creativity.
While adhering to his unique yet timeless psychedelic style, his works are like a mirror, always reflecting the dark side of modern society. This year in 2021, he is scheduled to release new works on the theme of "Horror" generated by earthquakes and pandemics in an exhibit at the Contemporary Art Museum Kumamoto. Mr. Tanaami depicts the fleeting and floating world ("ukiyo") in what could be truly called contemporary ukiyo-e.
At this time, he has completed his second collaboration with artisans who have inherited traditional ukiyo-e production techniques. Standing atop a bridge, which is a reference from a famous ukiyo-e, two worlds can be viewed in Keiichi Tanaami's new "ukiyo" woven together by Eros and Thanatos.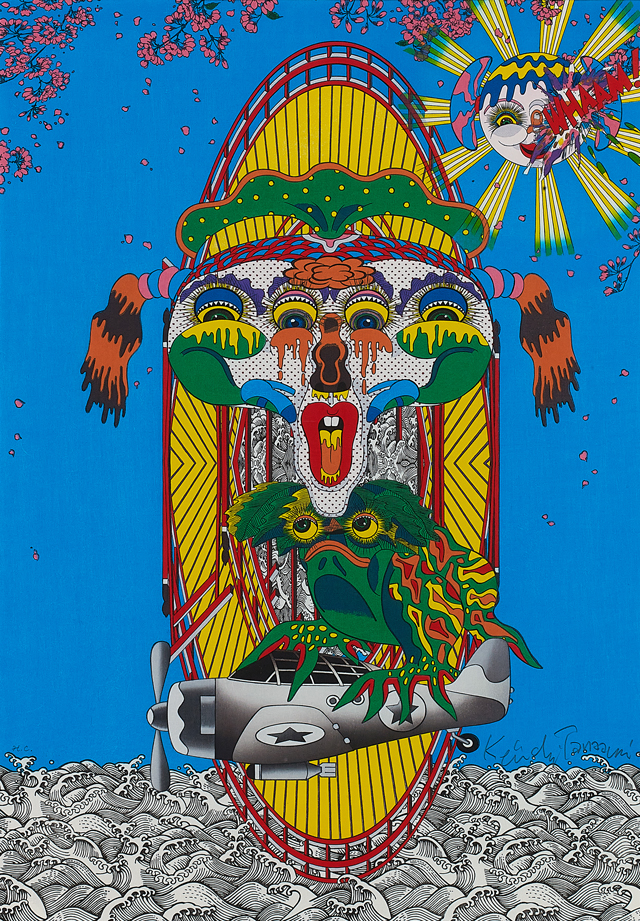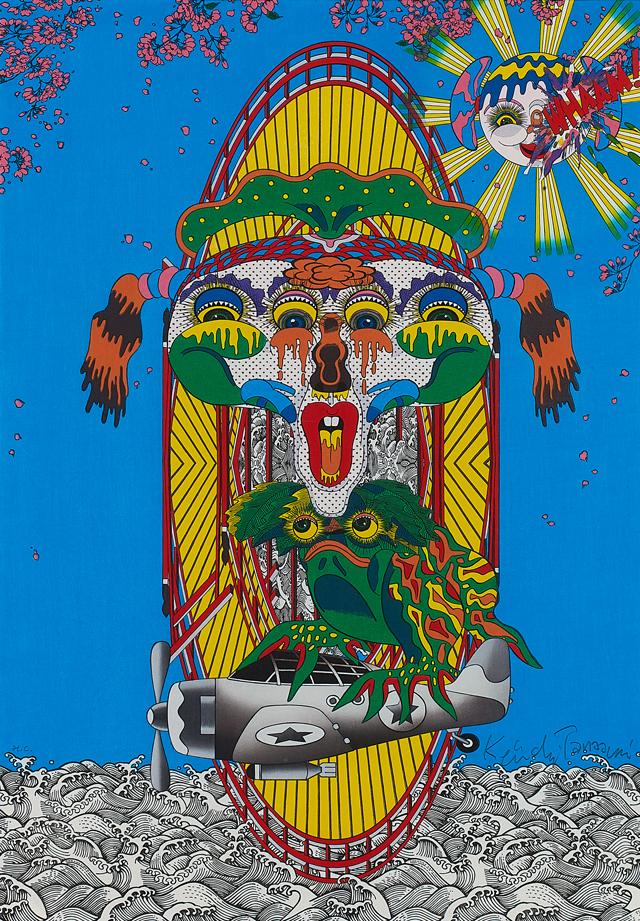 The Dream Begins Again
Comments from the Artist
"I make references to ukiyo-e most often ... The shape of that drum bridge (that often appears in my works) is a reference to the ukiyo-e by Katsushika Hokusai (1760-1849) entitled 'Drum Bridge at Tenjin Shrine, Kameido from the series of Famous Bridges in Various Provinces.' The picture is a depiction of the bow-shaped bridge at Kameido Tenjin Shrine, but if a bridge with such steep slopes actually existed, you couldn't actually climb up or walk down it. In other words, this is a representation of 'a bridge you cannot cross.' It also connotes an interconnection between the two worlds of life and death."
"I am fond of bridges, and my image of bridges such as this one originates from the drum bridge at Meguro Gajoen."
"Later, when I started drawing, I saw various ukiyo-e in books and other places, and I began to tie these childhood memories to the forms I saw in ukiyo-e."
(Excerpts from the 2020 interview "Intricately Drawn Lines by Hokusai, Beams of Light from Childhood Memories")
Limited Edition: 120
Dimension of picture: 56.5×39.7㎝
Frame:72.7×54.5 cm     original frame
Paper used: Echizen kizuki hosho washi
(produced by living national treasure Ichibei Iwano)
Date of publication: September 2021
Special bonus: 1 proof print
(with the artist's autograph and serial number)
Production: The Adachi Institute of Woodcut Prints
Production cooperation: NANZUKA
The key block used to print the thin outlines is the backbone of a woodblock print and is carved with painstaking care.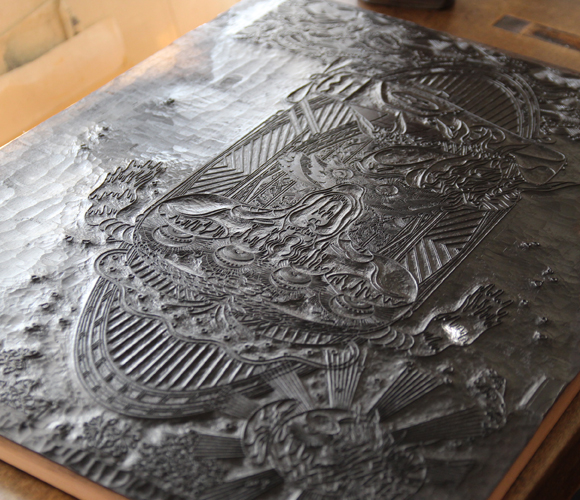 The woodblock of a work by Keiichi Tanaami with only the outlines exudes an overwhelming presence.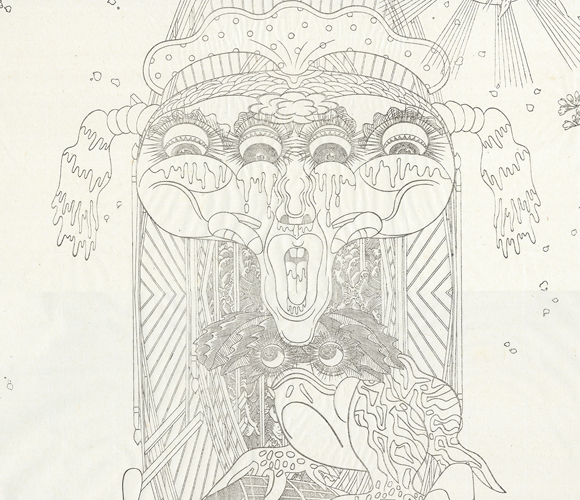 A proof print of the key block. Multicolored woodblock prints are printed one color at a time using multiple woodblocks.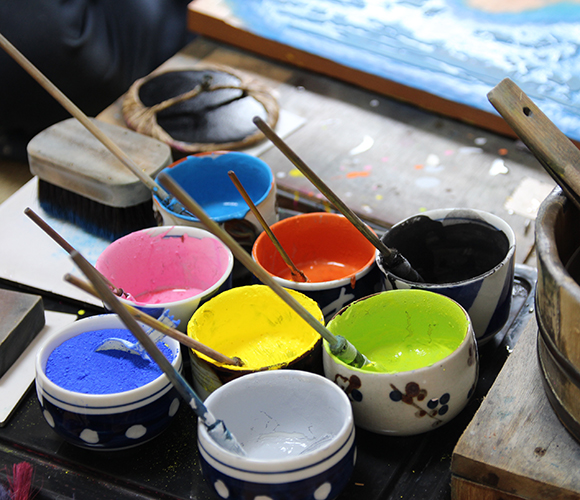 Both years of experience as an artisan and a modern sense of color are needed to prepare the pigment.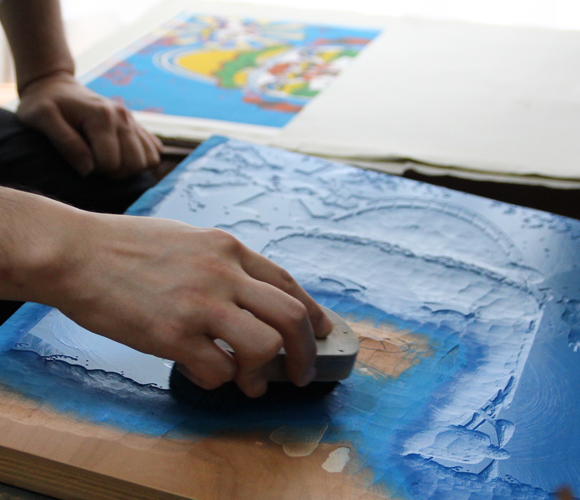 Colors are printed one at a time while paying keen attention to the overall color balance.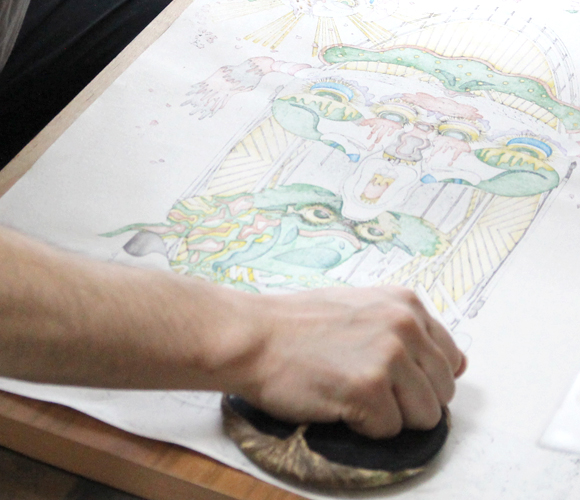 The method of rubbing particles of pigment into the fibers of Japanese handcrafted paper is a unique and important part of Japanese woodcut printing.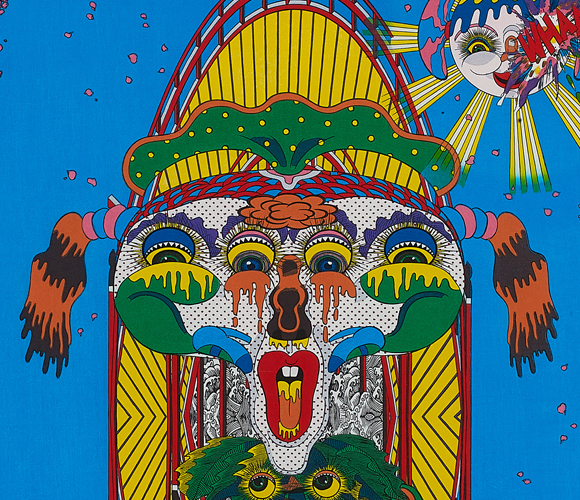 The falling petals of the cherry blossoms stand out against the strikingly bright blue background of the woodcut print.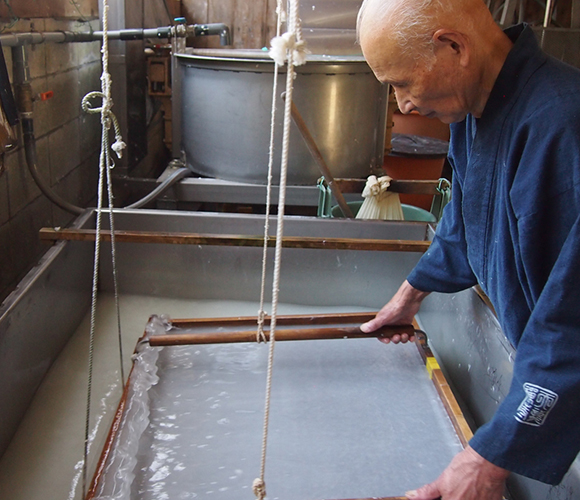 The ukiyo-e is printed on Echizen kizuki hosho washi (a unique kind of Japanese paper) handmade from 100% paper-mulberry fibers by Ichibei Iwano, a living national treasure.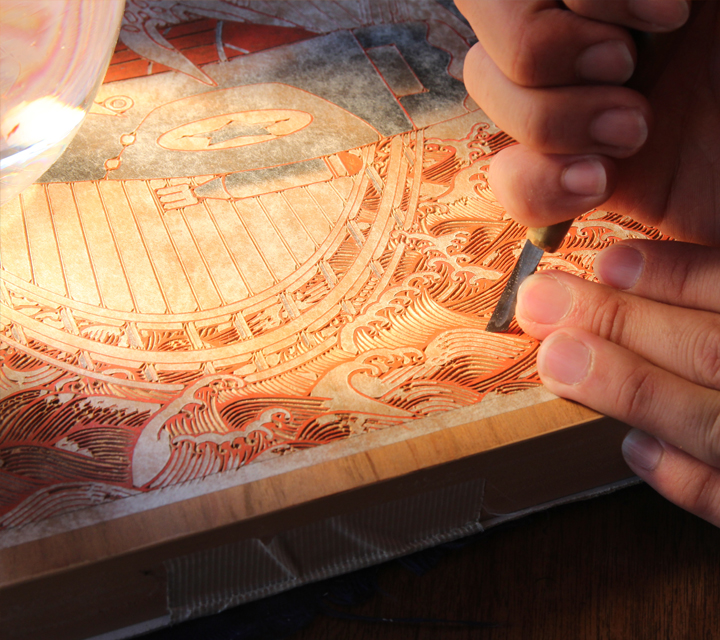 Faithfully carving out each intricate line
One unique feature of the works of Keiichi Tanaami is an exquisite intricacy suggestive of a mandala, a geometric figure representing the universe in Esoteric Buddhism. The carver puts all his focus on the point of a sharp knife and translates the intensity onto the Japanese mountain cherry woodblock.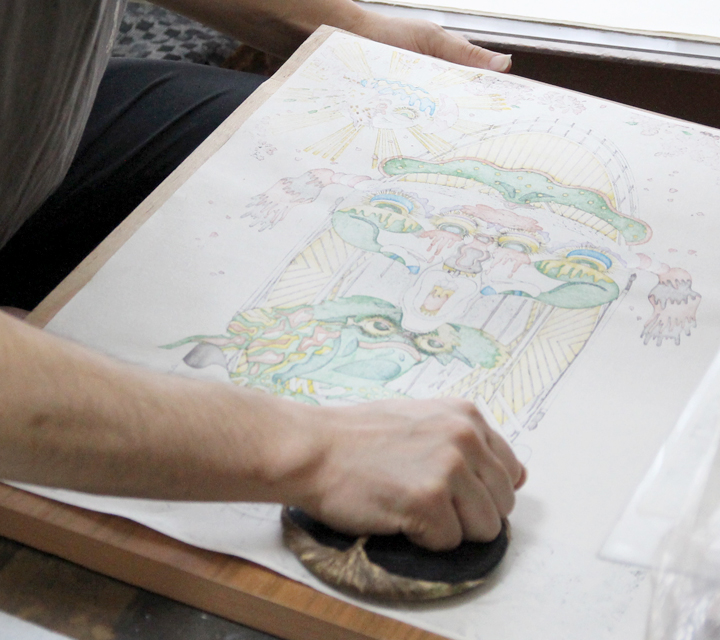 Following a long tradition to explore the colors of NOW
Throughout his long career utilizing various modes of expression, the unique color palette has been a constant in the works of Keiichi Tanaami. Although it was well suited to the brilliant colors of traditional woodcut prints, expressing the radiance and a certain venomous quality of the colors was a new challenge for the printer.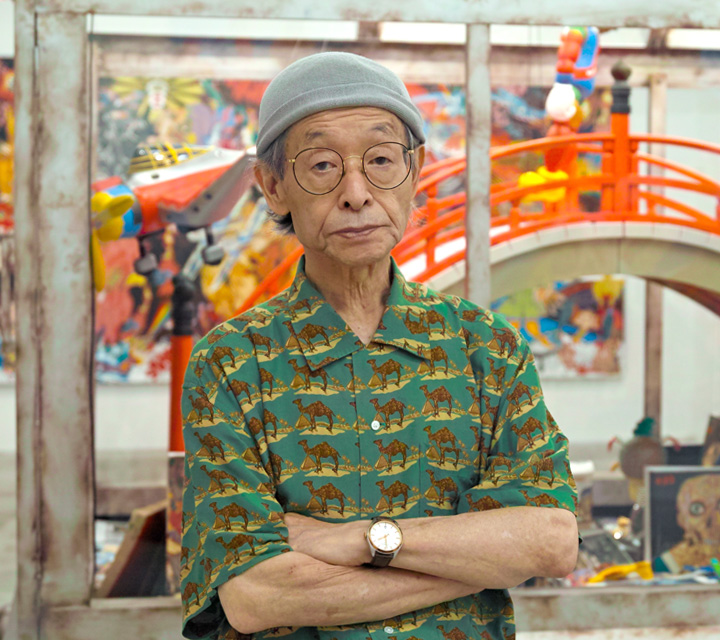 Photo: Kenji Mori
Keiichi Tanaami
Keiichi Tanaami was born in Tokyo in 1936 and graduated from Musashino Art University. He has been active as a graphic designer, filmmaker, and artist since the 1960s, never heeding the boundaries of mediums or genres but instead aggressively traversing them through his work. The history and trajectory of his practice spanning well over half a century have garnered tremendous support from younger generations of artists around the world, as he is viewed as a new figure of the artist in the 21st century. In 2019, Tanaami presented his collaboration with adidas Originals "Adicolor x Tanaami." In addition, with his works being on permanent exhibit in the Museum of Modern Art New York (MoMA) that celebrated its renewal opening, he continues to receive one and only acclaim as an artist who represents postwar Japan.
Furthermore, renowned museums around the world such as The Art Institute of Chicago (USA) and the National Portrait Gallery (USA) in recent years have newly welcomed Tanaami's works to their collections. Recent exhibitions: "International Pop" (Walker Art Center, Dallas Museum of Art, Philadelphia Museum of Art, USA, 2015-2016), "The World Goes Pop" (Tate Modern, London, 2015), "Tokyo Pop Underground" (Jeffery Deitch, NY & LA, 2019) and more.
◆ Keiichi Tanaami official website ≫
This title will be sold to customers selected by drawing lots.
If you wish to purchase the work, please enter the draw during the following period.
We will notify you of the results of the draw.
Entry Period: September 17 (12 p.m.) - September 24 (12 p.m.), 2021 -Japan Time-
First sale of 30 prints
*Entering a draw is limited to only one product per customer.
Please note that customers who select more than one will be excluded from the draw.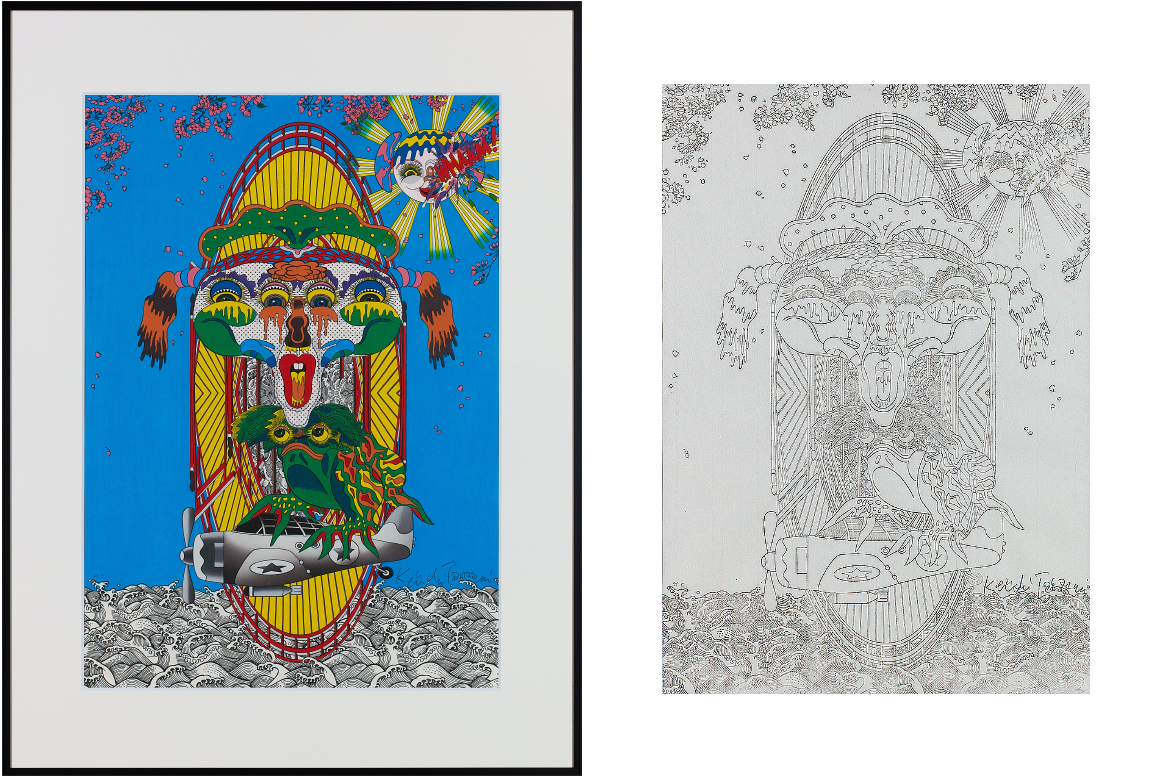 Keiichi Tanaami
"The Dream Begins Again"    250,000yen (excluding tax)
     Original Frame   15,000yen (excluding tax)
Special bonus: 1 proof print (with the artist's autograph and serial number)
One proof print printed from just the woodblock for the outlines will be given as a gift. The proof shows the intricate line drawings of Keiichi Tanaami's work.