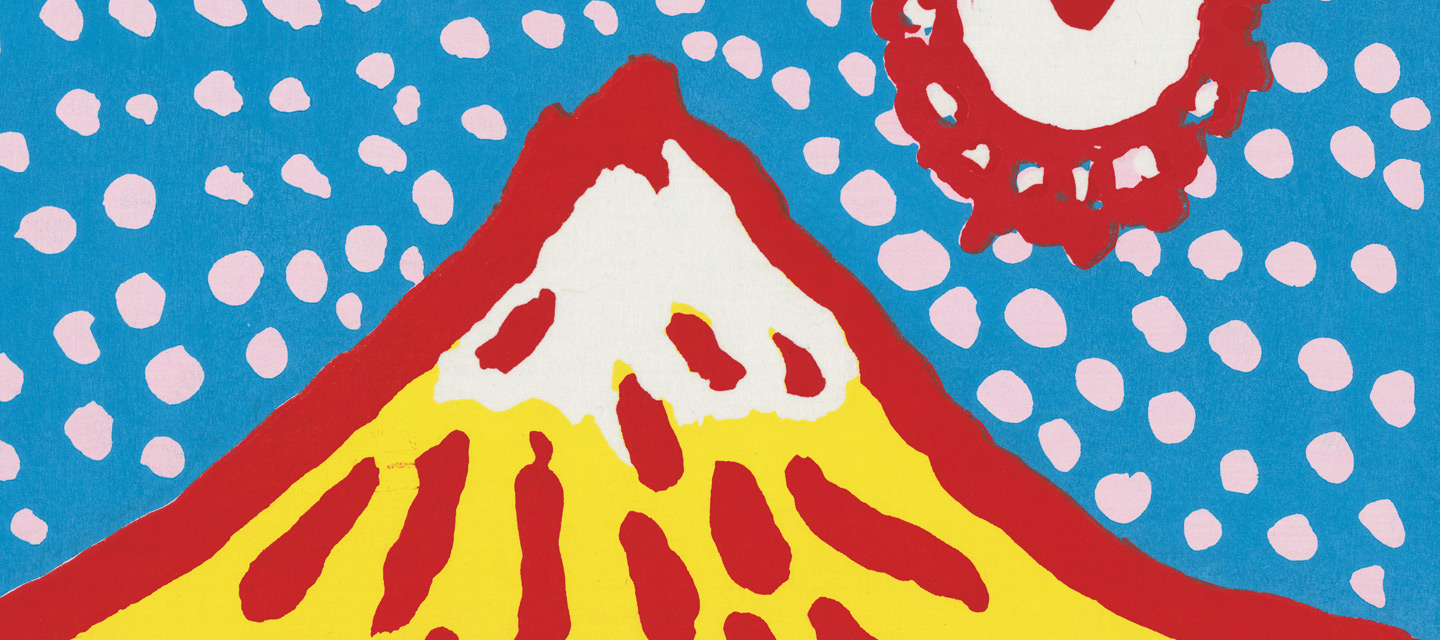 Yayoi Kusama
Mt. Fuji of my heart speaks
The theme of this piece is Mt. Fuji, the symbol of Japan that was included on the UNESCO World Heritage list. Since ancient times, the graceful mountain has been depicted in numerous ukiyo-e and other works of art. Yayoi Kusama completed this piece in one go after she saw Mt. Fuji up close for the first time and was deeply moved by the sight. The yellow Mt. Fuji filled with vitality, the brightly shining sun and the poem that was added as a title all thoroughly express the emotions that Mt. Fuji aroused in the artist.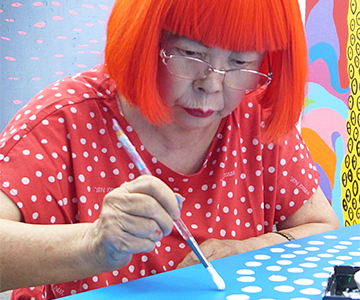 Yayoi Kusama works her brush, moved by the deep emotion she felt when she saw Mt. Fuji up close.
© YAYOI KUSAMA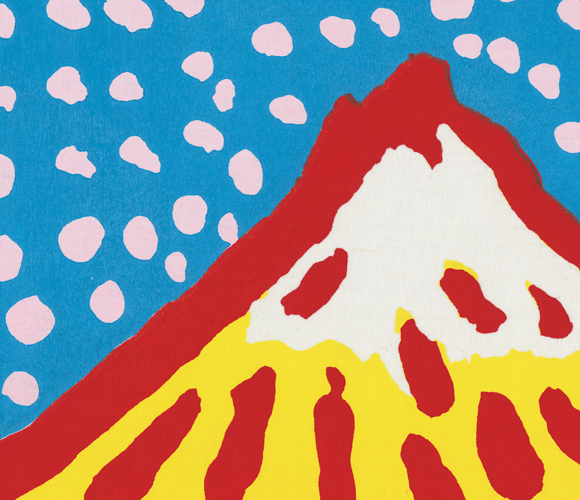 The outline of the mountain drawn with powerful brush strokes conveys a grandeur in the yellow Mt. Fuji.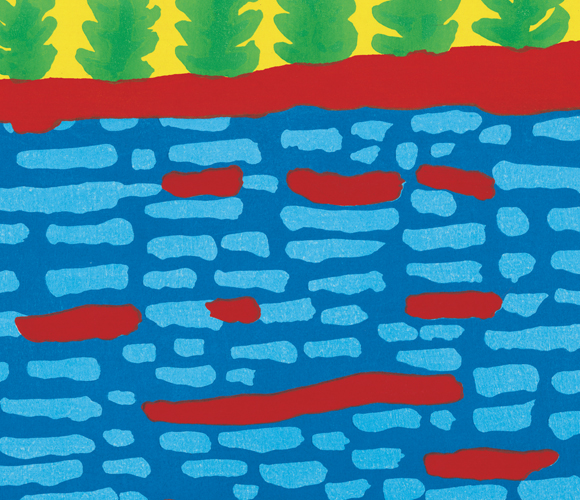 The light reflected on the surface of the lake is shining bright red.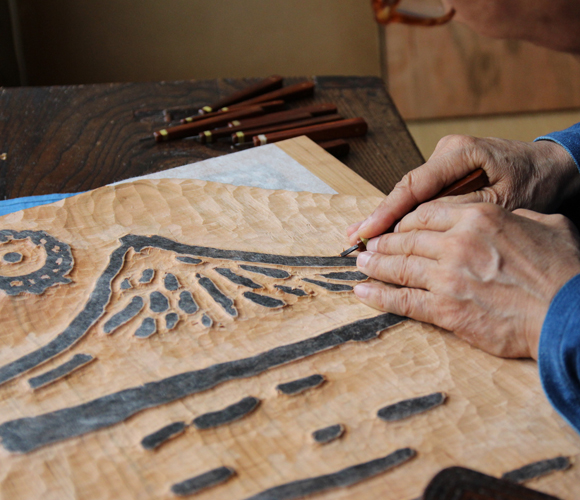 The carver feels the rhythm of the ridge of Mt. Fuji painted in red by Ms. Kusama as he faithfully reproduces the lines on a woodblock.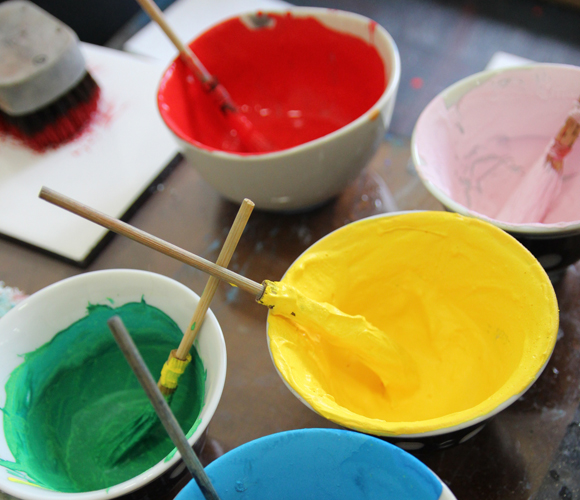 Brilliant colors that are not seen in ukiyo-e are used to express Ms. Kusama's vivid colors.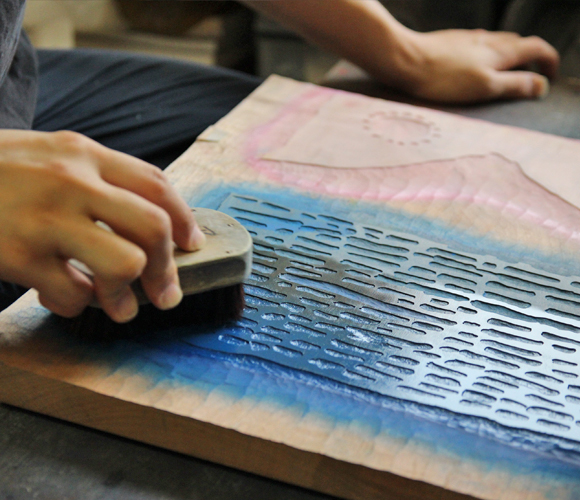 Highly sophisticated "bokashi" or gradation techniques are used to create depth in the picture.
Printed individually by hand, each ukiyo-e displays the vivid colors that are blended by the printer and are a unique feature of woodcut prints.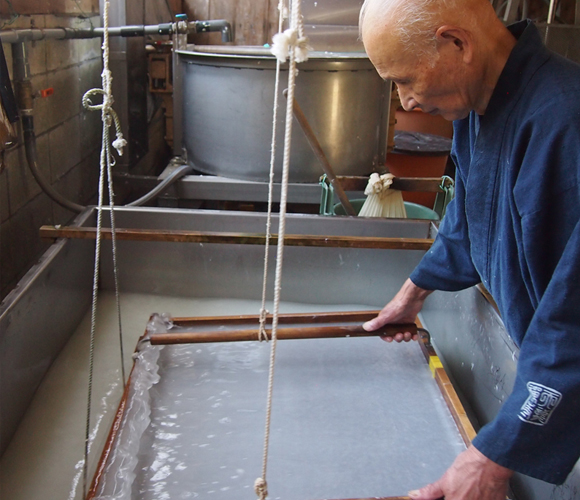 The ukiyo-e is printed on Echizen kizuki hosho washi (a unique kind of Japanese paper) handmade from 100% paper-mulberry fibers by Ichibei Iwano, a living national treasure.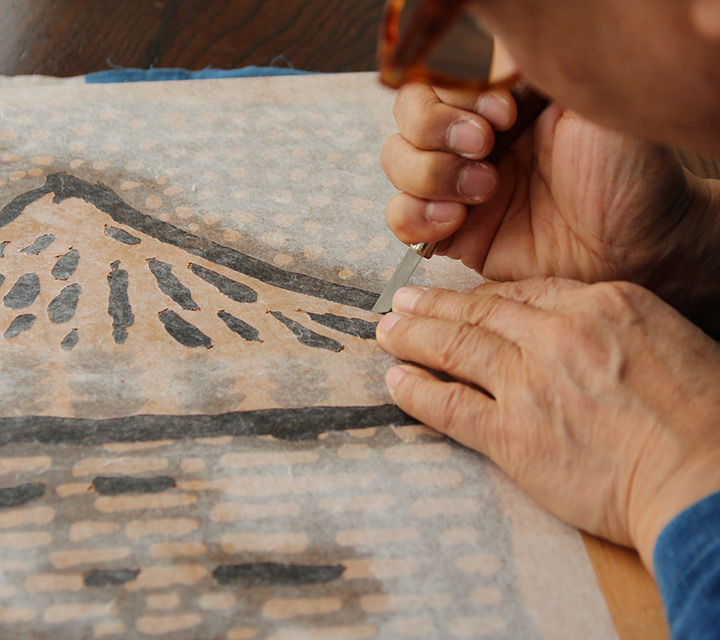 The expert skills of the carver expresses the movement of the brush.
The carver makes the carving knife quiver to create movement in the lines.This is a carver's technique born from many years of experience.The dynamic touch of Ms. Kusama's brush was successfully conveyed.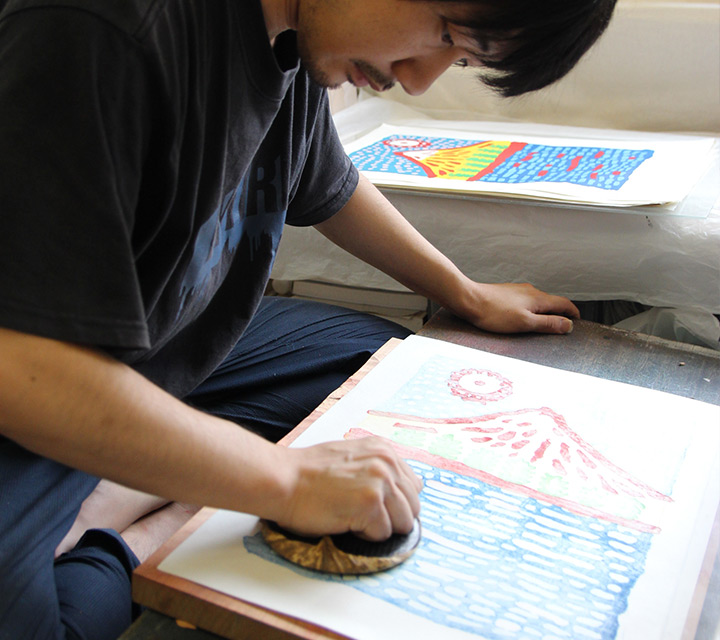 Printing techniques to produce vibrant colors are rooted in tradition.
The deep tones that are produced by rubbing the paint into the fibers of the washi are a unique feature of woodcut prints.The vibrant colors are made possible by the traditional techniques developed through the production of ukiyo-e.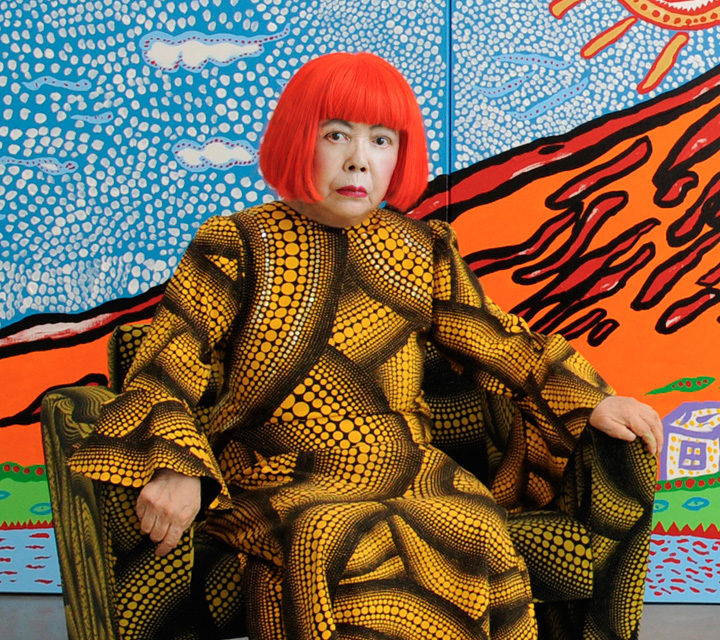 © YAYOI KUSAMA
Yayoi Kusama
Born in Matsumoto City, Nagano Prefecture, in 1929. Created fantastical paintings using polka dots and nets as motifs from around age ten. Moved to the United States at age 28. Established herself as an avant-garde artist by staging happenings in New York City in the latter half of the 1960s. Returned to Japan in 1973. Represented Japan at the 45th Venice Biennale in 1993. Her solo exhibition was the first at the Japan Pavilion that year. More recently, her major solo exhibits have been well received during their international tours of famous art museums.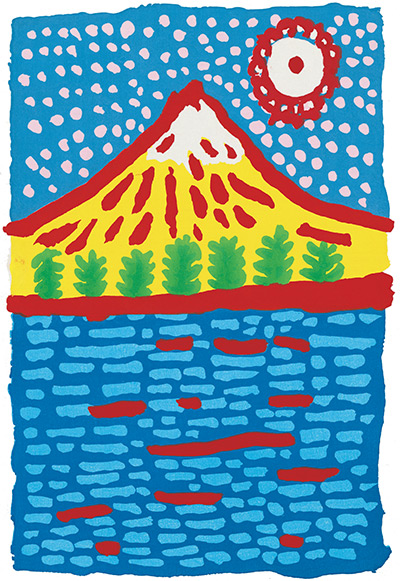 Print 300,000yen (Tax-exclusive)
Framed 330,000yen (Tax-exclusive)
Limited Edition:

120 per Colour

Image Size:

43.0×29.0cm

Frame:

64.0×49.5cm Original Frame
Weight 1.6kg, Made of wood and acrylic (70% of UV cut)

Technique:

Ukiyo-e Style Woodcut Print

Paper:

Echizen Kizuki Hosho Washi
made by Living National Treasure, Ichibei Iwano
Publication Year:

2017

Supervised:

Yayoi Kusama Studio Inc.
The Adachi Foundation for the Preservation of Woodcut Printing

Produced:

The Adachi Institute of Woodcut Prints

Notes:

Limit 1 print per person