Yu Miyazaki
Rich Black Hair Flowing Through Her Comb
Yu Miyazaki is a Japanese-style painter who has fascinated many people with her "bijin-ga" ("portraits of beautiful women") with delicate lines and soft colors. She received the grand prize at the 9th Adachi Contemporary Ukiyo-e Award, and her first woodcut print "Full Bloom - Hanazakari" that she created with contemporary carvers and printers received high acclaim. Five years later, she worked with modern artisans once again to create her second woodcut print, "Rich Black Hair Flowing Through Her Comb." A tribute to Hashiguchi Goyo, who was called the "Utamaro of the Taisho era,'' this work embodies the elegance of bijin-ga that has been passed down through history.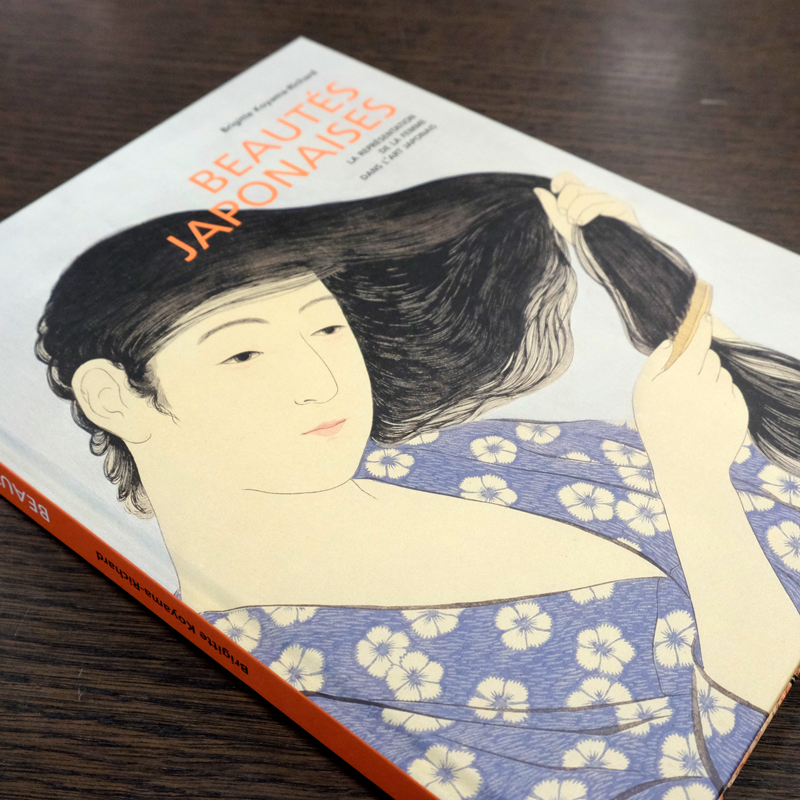 A tribute to Hashiguchi Goyo, who was called the "Utamaro of the Taisho era"
Concentrating on the tip of the knife to carve the flowing lines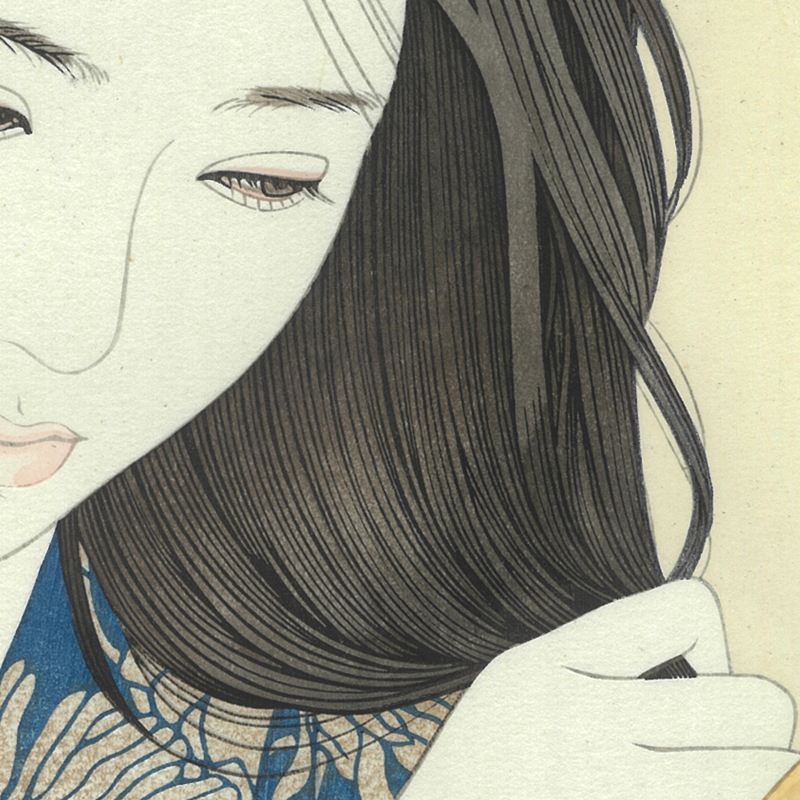 The artist focused on the three-dimensional depiction of hair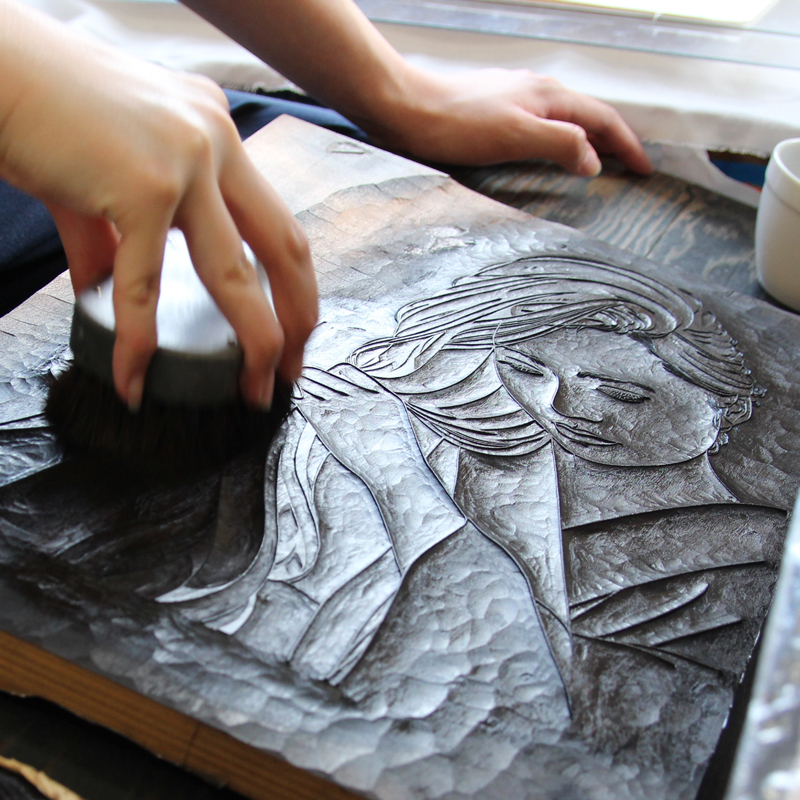 Several woodblocks were used to depict the black hair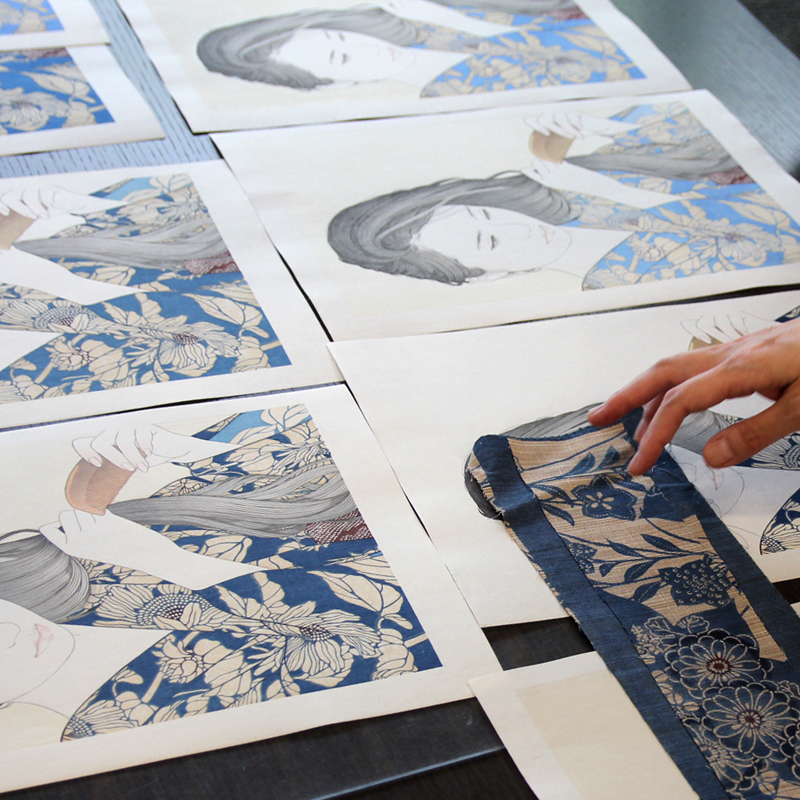 Faithfully reproducing the texture of the kimono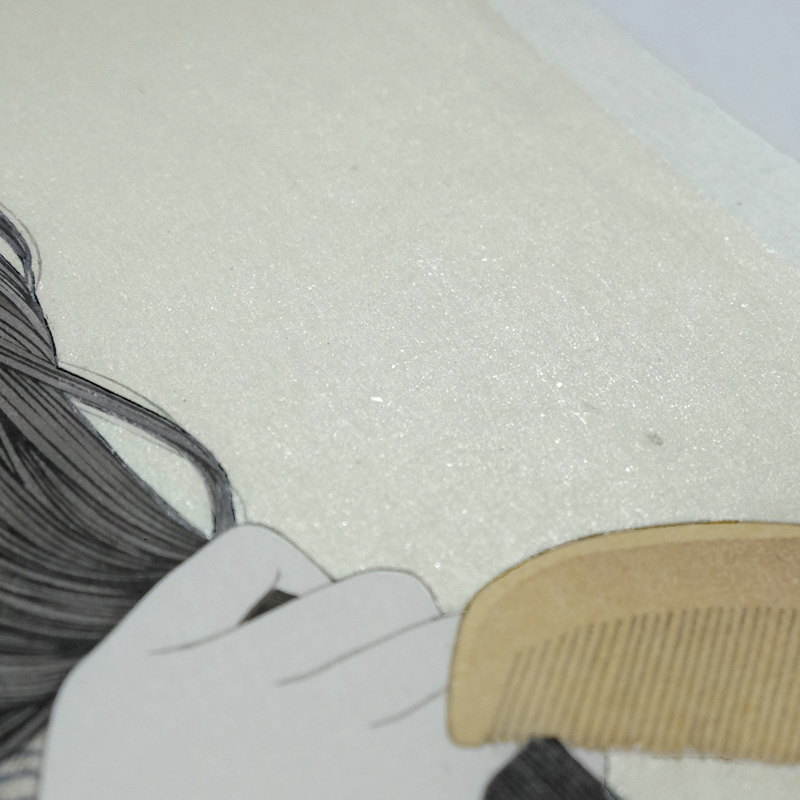 Lustrous background created using mica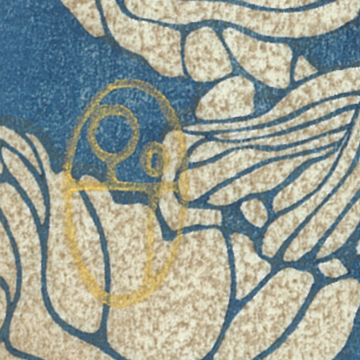 As with the previous work, Miyazaki's seal is on the bottom left of the work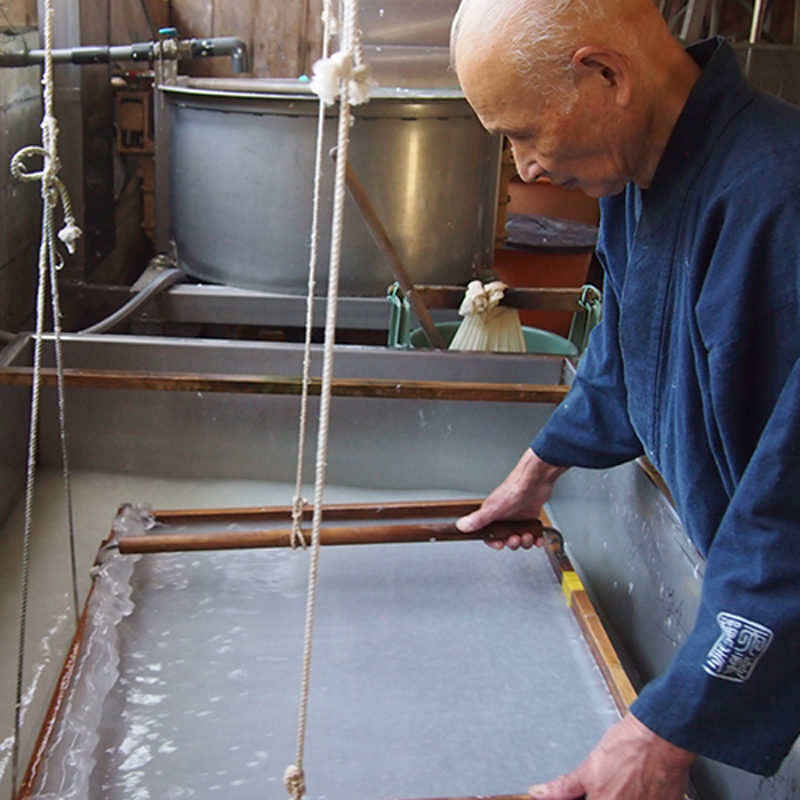 The paper used is the highest grade Echizen kizuki hosho washi, made by a living national treasure
Carving the delicate lines of flowing black hair
The expression of hair in bijin-ga has been passed down from the ukiyo-e of the Edo period and the "shin-hanga" ("new woodcut prints") of the Taisho era. In this work, Miyazaki focused most on the lines of the flowing black hair. The lines of the hair of the Reiwa era beauty were carved while paying respect to the artists and artisans of each era.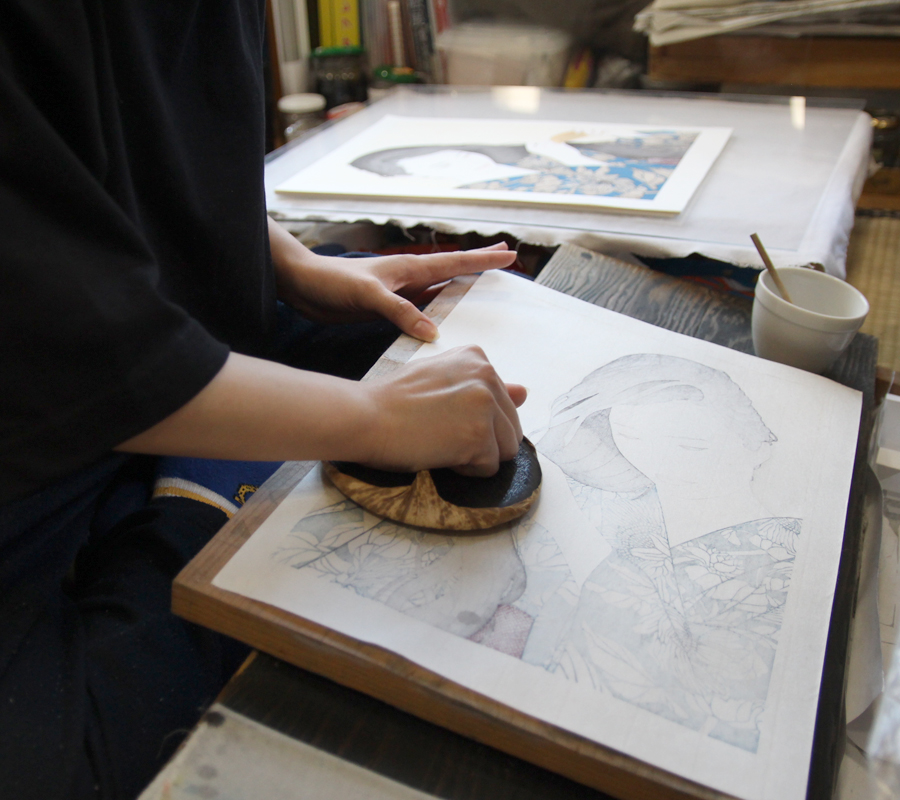 Elegance created by the texture of Japanese paper and the soft color of woodcut prints
Miyazaki's paintings of beautiful women have an elegant atmosphere, which is expressed through soft and transparent colors. Making use of the texture of Japanese paper, the world view of Miyazaki's work is printed with care.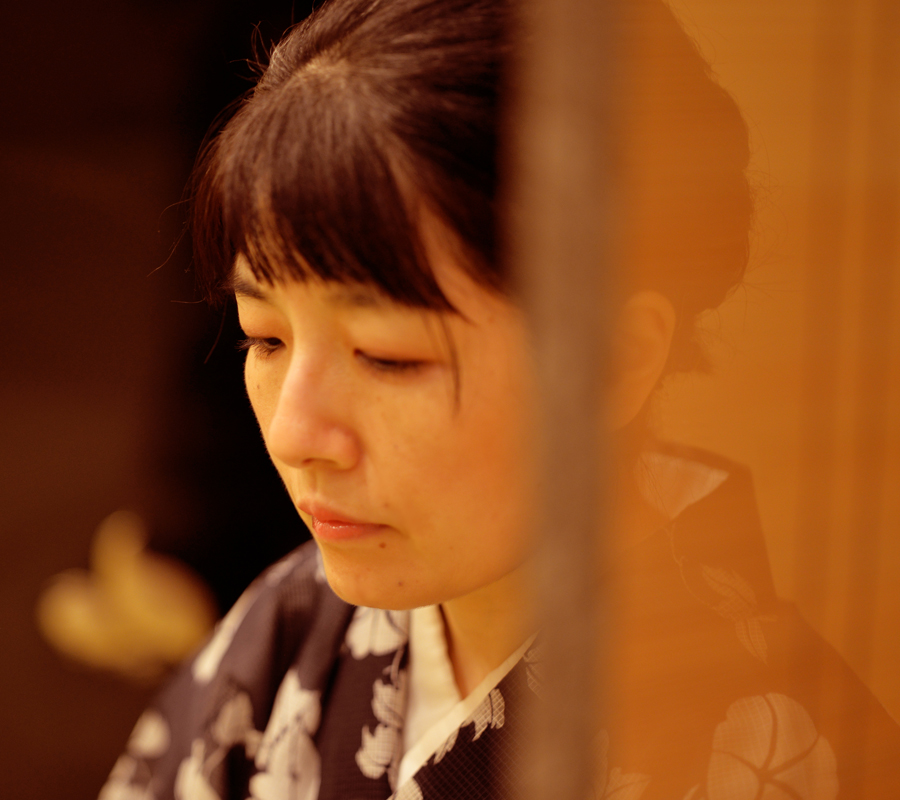 Yu Miyazaki
Born in Osaka in 1973. Graduated from the art department of the Osaka Prefectural Kohnan High School.Yu Miyazaki held her first solo exhibition in 2011. The artist continued to produce works using various materials including pencils, colored pencils and acrylic paints and started studying and producing Japanese-style painting on her own from 2015.She released bijin-ga works repeatedly, and was included in the book entitled "Bijin-ga zukushi" (collection of bijin-ga) in 2016. In March 2018, she received the grand prize at the 9th Adachi Contemporary Ukiyo-e Award. In 2022, Miyazaki published her first collection of artwork "Tsumugare yuku en" ("Spun Relationships") from Geijutsu Shinbunsha. For the 2023 film "Rohan at the Louvre," she was responsible for the production of artwork within the film and instruction of Japanese-style painting. She was selected for the Seed Yamatane Museum of Art Nihonga Award 2019 and received the Encouragement Award at the 8th Sato Sakura Museum Ouka Award.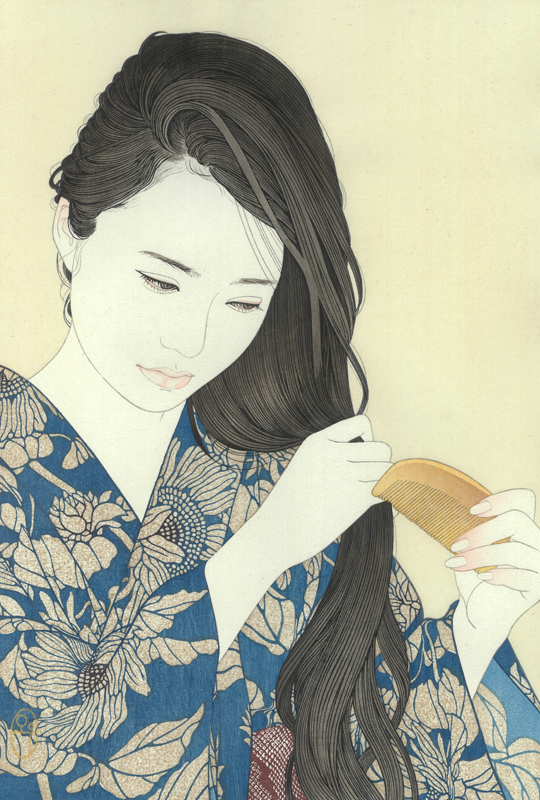 No. of copies:

100

Dimension of picture:

35.2×24.0cm

Dimension of frame:

52.9×41.4cm Original Frame


Specification of frame:

Approx. 2.0kg, wood, acrylic resin

Type of print:

Woodcut print

Paper used:

Echizen kizuki hosho washi

(produced by living national treasure Ichibei Iwano)
Date of publication:

July 2023

Supervision:

The Adachi Foundation for the Preservation of Woodcut Printing

Production:

The Adachi Institute of Woodcut Prints

Note:

Delivery will begin from around the mid August 2023