Masterpieces of ukiyo-e with moon
Admiring beautiful autumn night in ukiyo-e
Seasonal Recommendations
Hiroshige also actively worked in various genres of ukiyo-e not only in the landscapes. Especially he left many masterpieces of flowers and birds designed in a long and narrow tanzaku format. "Wild Geese and Full Moon" is one of them. It was used for a design of a Japanese stamp issued in 1949.
The large moon occupies the half of a screen with a perfect composition. The three geese flying gracefully from right to left provide an impressive sight and the cloud drawn beneath them, executed in skilled bokashi gradation, adds to the effect of perspective. The rich entirety of this print is typical of the idyllic sense of Hiroshige. >> Details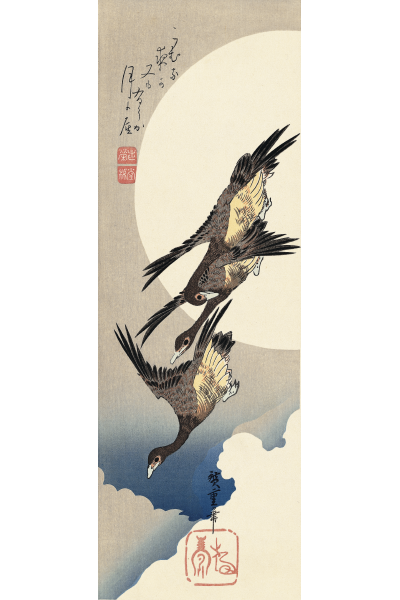 A poetry says "Such a beautiful night with moon and geese would never be seen again".

Descending geese deliver a melancory atmosphere of autumn.

Hiroshige boldly arranged a large full moon in the long and narrow frame.

Sophisticated bokashi gradations in sky and clouds printed in multiple times
Points of interest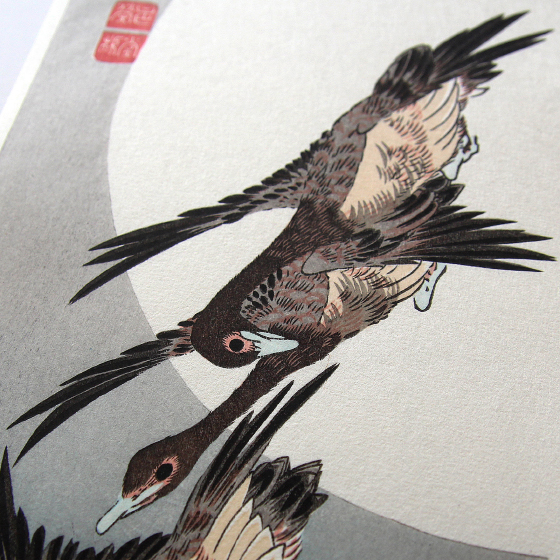 A large bright full moon is expressed as a paper color itself. The contrast between the beautiful navy blue gradation and the warm paper color creates a moment of beautiful autumn night.



Hiroshige left many masterpieces of birds and flowers ukiyo-e designed in a tanzaku format in which he added poetrys such as haiku or waka to create a lilical world. Hiroshie also played with using different stamps of his name to match the atmosphere of each print.
Related Products
These products are recommended for displaying different works to match the season.
The wooden frames are combined with durable UV-resistant acrylic sheets instead of glass. The frames can be used horizontally or vertically to match the Ukiyo-e displayed.
Frame stands are recommended for displaying works on a surface rather than hang it on walls. The stands can be disassembled for easy storage.